September 1st, 2013
Comments Off

on September 2013 ASPects is Available, Annual Public Issue
The September ASPects is our annual public issue this year; it's available for everyone to download–click on the cover to download the PDF file. ASP members get ASPects every month. This time, Al Harberg has written about how business software isn't like home software. I talk about doorslam apps for web sites. And there's industry news, trade events, and developer opportunities, as always.
---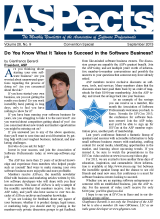 ASPects, September 2013
Do You Know What It Takes to Succeed in the Software Business?
by Gianfranco Berardi
Are you thinking about starting your own software business? Are you worried about unanswered questions regarding the process of doing so? Are you concerned about the risk?
Invest in your success, and join the Association of Software Professionals today….(page 1)
Trade Show Calendar
ISVCon, September 27-29, 2013 (page 2)
Publishers Reap Benefits from Global PAD v4 Repository
by Joel Diamond
The PAD Specification v4.0 is nearly 9 months old and the community of publishers as well as download sites, software catalogs and other PAD support channels are already reaping benefits… (page 3)
Flying through hyperspace ain't like dustin' crops
by Al Harberg
In today's troubled economy, a lot of microISVs who sell consumer software are trying to add a business application or two to their product mix. As Han Solo explained to Luke Skywalker in the first Star Wars movie, piloting the Millennium Falcon to another galaxy is not like flying a crop duster on the family farm. Similarly, developing and marketing a business application is not like developing yet another program for home users. Software developers who understand the differences between the two marketing challenges can do a better job of generating income with their new marketing focus. Here are some insights about what you might encounter as you move into the business software arena… (page 4)
Top 10 Mistakes Made When Hiring Freelancers
by Jim Coutu
When hiring freelancers, mistakes can be made at almost any turn. As an arbitrator who specializes in freelance projects, I have arbitrated over a thousand failed projects. Many times I have seen cases where someone hiring a freelancer made easily-correctable mistakes that caused their project to fail. Here are the top ten mistakes made when hiring freelancers… (page 5)
Don't Build a DoorSlam!
An App is Not a Web Site
by Jerry Stern
I've been seeing annoying apps this year.A lot of them. Really, I should install an app for Sheetz? Really? Hello, it's a gas station with hot dogs, and road-side billboards that tell me to install their app. Why?
Some online blogs are calling these sites and apps doorslams… (page 9)
How to Get an Ultimate Perspective on Your Business
by Jiri Novotny
The best way to quickly gain a tremendous perspective on your business is to create a visual model of it…. (page 11)
Own the Software Sales Process
by Al Harberg
Take charge of the sales process if you expect to close a sale. That advice comes from Joe Girard, the world's greatest salesman according to The Guinness Book of World Records. Much of the advice in Girard's book How to Close Every Sale can be translated from Girard's experience with face-to-face automobile sales into the realm of selling software on the Internet… (page 13)
ASP Member News
DataNumen: Powerful, Affordable RAR Repair Software (page 14)
Popular "Allmyapps" Windows App Store to be based on PAD® v4.0 (page 14)
News & Press Corner
Amazon Appstore Now Accepting HTML5 Web Apps (page 15)
Amazon Launches Mobile Associates API (page 15)
Moving forward (Steve Ballmer of Microsoft retires) (page 16)
Jerry Stern ASPects Newsletter, Uncategorized ASPects, business software, doorslam apps, hiring freelancers, ISVCon