July 2012 ASPects, the Annual Public Issue, is Online Now
The ASPects newsletter is sent to ASP members each month. The entire 25-year history is available in PDF format in the members' archive, and is fully-searchable.
But this month is different–the July issue is a free download for everyone, not just members of the Association of Software Professionals.
---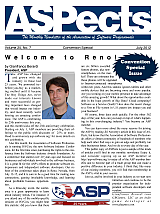 July 2012
Volume 25, No. 7 (1.1 Mb)
"Welcome to Reno!"
by Gianfranco Berardi
The ASP has changed and grown with the industry in these last 25 years. We promoted try before-you-buy as a marketing method until it became The Way Things Are, we've made our interests known and were successful at getting important laws changed that would impact our industry, and most recently we're hosting an amazing conference… (page 1)
Trade Show Calendar
(page 2)
"The Biggest Mistake You Can Ever Make"
by Jiri Novotny
The biggest mistake you can ever make is to wing it alone.
Being a mISV is awesome. But I think that doing it all alone and never fully onnecting with other mISVs is not awesome… (page 3)
"ASP Indie Games SIG"
by Gregg Seelhoff
Did you know that the Association of Software Professionals has a SIG (Special Interest Group) specifically for game developers? (page 4)
PAD Specification Update
by Joel Diamond
Plans are being made for a major overhaul to the entire PAD platform beginning this summer. Members will be notified in the very near future with the full plans for both changes and enhancements to the PAD Specification as well as the authoring tools, shortly after ISVCON… (page 6)
How to Capture a Screen
by Jerry Stern
I spent some time looking at software screen shots recently. It was something of an eye opener. As in, it caused considerable visual stress to look at the ugly things. They were, for the most part, worthless…
It's not just that these screenshots don't show what the program can do; they don't even identify what program we're looking at… (page 6)
"Customer Relationship Management for microISVs"
by Al Harberg
Customer relationship management (CRM) is good software marketing. CRM is a simple notion that can help software developers sell more of their applications: It costs most businesses less money to generate sales from old customers than it does to find new ones… (page 8)
"Call Yourself!
Are You Impossible to Reach?"
by Jerry Stern
I'm surprised by basic web page failures among microISVs. I follow a link to a product I've heard about for years, or was recommended to me, and I see, well, crab grass…
We run software and technology businesses, and many of us are guilty of liking our technology so much, that we want to just do that…
The common error in a small business is skipping supervision… (page 11)
"Software Passwords and Software Marketing"
by Al Harberg
If your software asks users to create a password to protect the privacy of their information, then you have an opportunity to offer additional value to your customers. And that can mean increased software sales, additional recommendations, and good will for your company in your marketing niche.
Help your users choose effective passwords… (page 14)
ASP Member News
Slimbrowser – a Fast and Secure Tabbed Web Browser (page 14)
Affordable Cloud-Based Speed Reading Software for Colleges and College Prep (page 15)
Create Handwriting Fonts In Many Major Languages (page 15)